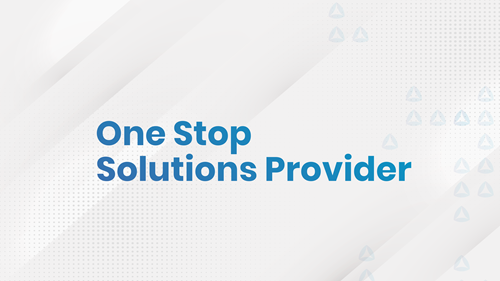 02 Feb 2022
After reaching 3 decades of experience in the software industry and working on a lot of exciting changes over the last few years, we seized the opportunity to re-evaluate our strategic direction and prepare for the future.
IDS company expanded its service lines, reached new markets, recruited more than 25 fresh talents in the last year and gained international partnerships. IDS now reached a point where it can provide you with every service and solution your business needs to grow.
A One-Stop Solutions Provider: What You've Been Searching For
Integrating solutions from different providers is doable, but having multiple contacts for each element of your business costs you time and effort; shifting your focus away from your main business goal: taking care of your customers.
IDS can provide you with one point of contact for every business need you may have instead of having multiple contacts for each element of your business. All of the services can be managed, implemented, and supported right through us.
We are here to ease the burden of solution management. Now you can welcome the days of responsive, reliable services from a single provider that knows every aspect of your business.
We now offer you full ICT Solutions:


NEW:


This advancement was followed by a refresh to our brand's look!
Why we did a Brand Refresh?
There are a few key reasons why we decided now was the right time to refresh our brand:
Our 30 years anniversary recalled a brand refresh.
We have grown significantly since 2010 (the year we launched our previous logo) by market reach, number of partners and customers, types of services and solutions and we wanted this brand refresh to signally reflect this growth
We updated our vision, slogan, strategy and this refresh solidifies our updates and our mission and values.
As a company that offers design and branding services, we always make sure our brand identity reflects the level of strategic thinking and quality products we provide to our clients. So, we felt the need for a refresh to our logo that feels fresh and strategic as the work we do.
We are still committed in every way to our mission and core purpose of providing our customers with ICT needs in the best way possible.
How We Approached Our Branding Refresh
A Distinctive Identity Uplift: Small Changes That Make a Big Difference
Our design team took this creative action to create a design palette and mood that reflected our style- elegant, elevated, confident and fresh. The team restructured IDS logo, both in terms of its proportions as well as color gradient.
"We considered many design aspects before finally creating a visual that we like to look at again and again. This step was all about keeping up with the trendiest designs and sending the right visual message to our target audience.
Due to the wide range of digital media, we kept our identity free to adapt to all platforms, we created flexible guidelines that covey our modern innovative image." Lina Haidar, Creative Director.
The changes aren't huge, but the company is now telling the right story for where it is in its growth journey. We believe this brand refresh and updates truly reflect our professional and reliable way of working.
Introducing our logo uplift:

We're incredibly lucky and proud to have talented specialists in-house that can bring brands to life. If you'd like to know more about our services, check our updated Company Profile to have a clear look.
Also, you may simply get in touch with our team members who would be happy to support your brand and business growth and tell you more about our services.
Call us: +961 1 859501
Email: info@ids.com.lb