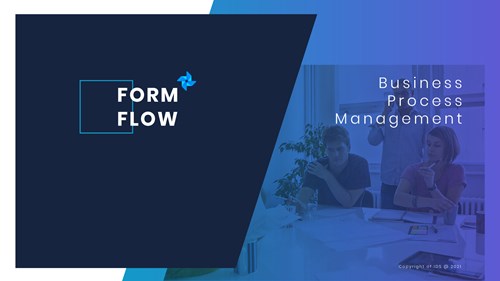 20 May 2021
Our Intelligent Process Management System
Drive end-to-end digital process automation, enabling continuous improvement and innovation!
Get FORMFLOW today and be ready to watch your productivity rates skyrocket!
Request a demo       Download Document
A SMART AND SCALABLE SYSTEM
Your browser does not support the video tag.
ABOUT FORMFLOW
FORMFLOW is a Process Management System that automates & handles the business processes and arranges the workflow in your company.
With FORMFLOW, you'll gain a powerful system for any type of business that is fully integrated with other system and tools and automates your business processes, centralizes your work Processes and integrate functions through Form and procedures.
It's built for scalability so as your business grows in volume and complexity, the system adapts right alongside your business.
This, in turn, dramatically improves your business. Managers can make quicker, smarter decisions and employees are empowered to collaborate in a more productive and agile way.
LOW CODE PROCESS AUTOMATION
FEATURES OF FORMFLOW
Easy transaction and workflow builder: Based on their business needs, users can build their own forms, visually and graphically, in a simple, easy, intuitive, fast and awesome way without having any coding knowledge background.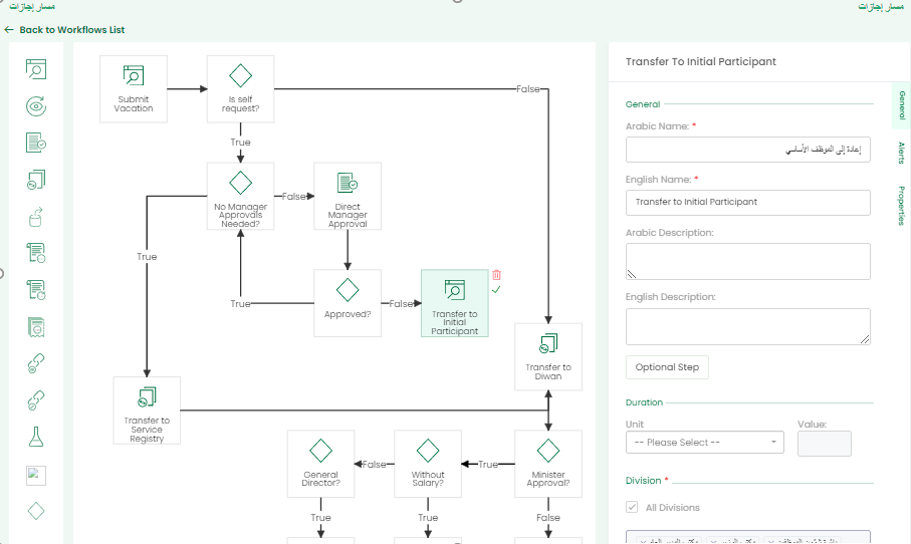 Secure system: FormFlow provides Access Rights and Integration with LDAP (Active Directory) which prevents unauthorized access to a location or information. Also, it provides better control over sensitive documents to keep the data protected and access to documents can be controlled.
Multilingual: The system supports any language through which directions alignments and terms change when changing language.
SYSTEM BENEFITS
Powerful System: FORMFLOW can be used with any business and in any industry independent of the company's size.
Paper-less Environment: As FORMFLOW will digitize all the documents and forms in the company, it is time to go paper less and save space, money and time.
Cost effective: "Time is money." And FORMFLOW saves for you work hours. With the efficiency you've gained from streamlining business processes, you'll eventually end up with a lower output-to-expenses ratio.
Compliance & Transparency: FORMFLOW ensures that your company can implement regulatory requirements quickly, thereby preventing delays in compliance and any associated fines. The processes will become transparent and visible to employees. 
               
Agility: FORMFLOW gives your company the ability to react to any kind of change, whether from advancements in technology, market demands, or a new regulation affecting an aspect of the organization's business activity.
 
Mobility: FORMFLOW is a responsive web application that allows users accessing it from any place and any device. It gives you the ability of workers to work outside an office, but the mobility of corporate data through technology networks.
 
Consistency: With FORMFLOW, each task is executed the way it was planned and designed. Identical problems are addressed the same way and there is no need to reinvent the wheel, even if roles do change.
Error and risk reduction: The visibility of business processes allows for concentration on inefficiencies. Because FORMFLOW gives your company the opportunity to work more efficiently, they are able to save their resources. FORMFLOW also results in the creation of better-designed, executed and monitored processes which can help reduce the risk of fraud.    
Highly productive and time efficient: FORMFLOW can facilitate the automation of a lot of repetitive elements within regular workflows. Process improvements like removal of bottlenecks, introduction of parallel processing, and elimination of redundant steps can easily be achieved with FORMFLOW. This improvement will allow employees to spend more time on other activities since the main support functions would have been handled. This translates into increased productivity and reduced time loss.
FORMFLOW CAPABILITIES
Centralize work process and integrate functions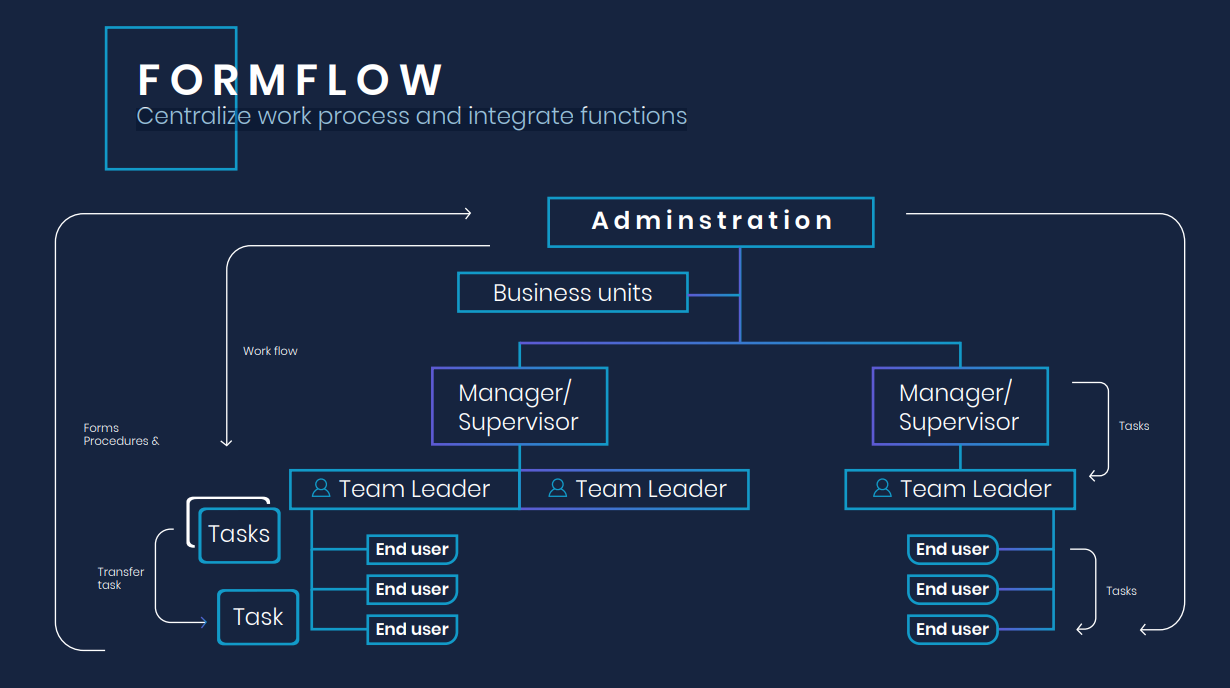 Offers set of Controls (General, custom, Customized, and Validation control)
Offers alerts of multiple types for task completion and deadlines whether by Email Notification or Pop-Up Notification
System Logs – All is registered, nothing is lost
Dynamic and Flexible Workflow Search Engine
Excellent file management (capture and storage): files can be replaced as new amended version while keeping the previous file. Users can preview and download all files with all versions.
Generates powerful dashboard and statistical reports
Responsive: adapts to all screen sizes and resolutions
Cross- Browser compatible website:  works well on the Google Chrome, Firefox, and Microsoft Edge browsers.
Offers Digital Signature
Easier, faster, and safer than the manual signature process
Integration with the Provider's API.
Documents and files can be locked after signature.
WHAT'S MORE?
Government Sector
FormFlow has delivered exceptional automation services to government organizations across the Middle East region and has helped them accelerate their digital transformation journey. Our pilot project was successfully accomplished for Ministry of Economy and Trade (MOET), Lebanon, whose supplier was OMSAR – UNDP.